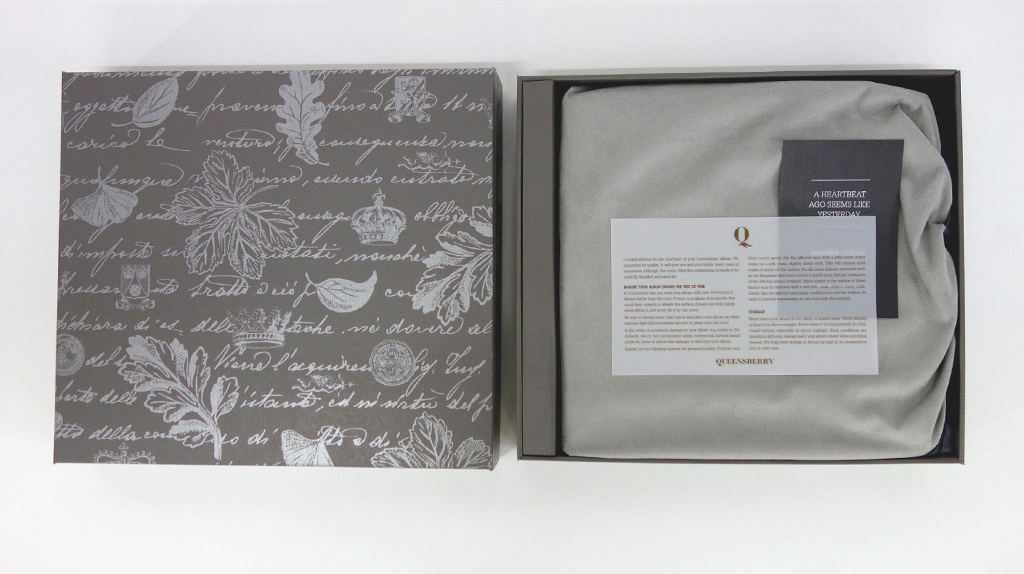 Fine Art Wedding Album
I have a bachelor degree in Graphic Design, and love designing beautiful layouts. I feel like my job is truly finished once a completed fine art wedding album is in my couple's hands. When we meet over a cuppa, I'd love to show you the high quality albums I offer. I am in LOVE with them, and know that you will love them too! You definitely need to see these for yourself, so get in touch and come on in to my home studio to have a look and feel (by appointment only).
- Handmade craftsmanship.
- Heirloom quality (it will outlive you!)
- Flushmount design
- Thick, board like pages.
- Printed on Kodak Endura Lustre paper or Fine Art Textured paper
- Sourced from one of the best album manufacturers in the world
- Papers and boards are sourced from environmentally friendly mills in Europe.
- Many cover materials/colours to choose from: leather, buckram, silk, vinyl, bengaline.
Design Process
Once you receive your wedding photos, you can go through and choose the images which you would like to appear in your album. All you need to do is select your favourite 100 images from your online gallery.
Once we receive your favourite's list we will begin your design and send it back for your approval. If you would like to make any changes to the original layout, your first set of revisions is free. Once you approve your album for print, your album is custom made and ready within 90 days.
Album Options
Our fine art wedding albums are available in a 10x10" or 12x12" size. With a 12x12" album purchase, you will also be able to order copy albums at a reasonable price in 10x10", 7x7" or 5x5" sizes.
Cover Options
The wedding albums are available in a variety of cover options such as Classic, Contemporary, Micro and Faux Leather, Silk, Bengaline, Vinyl and Buckram. There are plenty of colour options to choose from each material, so you can perfectly match it to your wedding theme.
 
why?
A wedding album is tactile and tells your story
After your wedding day, how often do you think you and your partner (+family and friends) will sit at your computer and sort through 300-900 photos? Individual images may have the ability to capture a moment, but a wedding album tells your story by focusing in on the highlights of the day. The whole reason you hire a photographer is so you can relive the memories and share your story with others. A professionally designed album is the perfect way to do that. :)
It's your first family heirloom
When you get to lay hands on your wedding album for the first time, you will LOVE it! The quality is absolutely amazing, and you will probably want to look at it over and over again. But the true value of your wedding album will come when you get to share the memories with your kids/grandkids. Imagine being able to show them how hot/fit/young you both looked, but more importantly, the story of how your family actually began.
It's a piece of quality art which lasts
Before digital cameras, photographers didn't hand over a roll of film to their clients, they handed over professionally printed photographs. Your wedding photos are meant to be printed, and viewed as a finished piece of art. A professionally designed, high quality album is the perfect work of art to preserve your most cherished memories.
You'll wish you had
Cheaper options of albums just don't cut it in the long run. They use cheaper printers, ink and paper. I personally can't think of a more important day which could be documented in a beautifully designed QUALITY album. It's so worth having a professionally designed album because so much time, money and energy goes into the wedding day. After the wedding is over, it's so easy to move back into the busy pace of your lives and forget all about the wedding. A professionally designed album is the perfect way to re-live that special day.

PS. I only offer albums up to one year after your wedding- as this is how long I keep your files for.
SAMPLE ALBUM | HANNAH & SEAN (POSSUMS FARM, DUBBO) | 12x12"
SAMPLE ALBUM | JAIMIE & MATT (STANLEY PARK | 10x10"
SAMPLE ALBUM | CAMILLE & NICK (THE VINEGROVE, MUDGEE) | 10x10"
"Love is a promise; love is a souvenir, once given never forgotten, never let it disappear."
– John Lennon –
Photos have been sourced from the album manufacturers website.